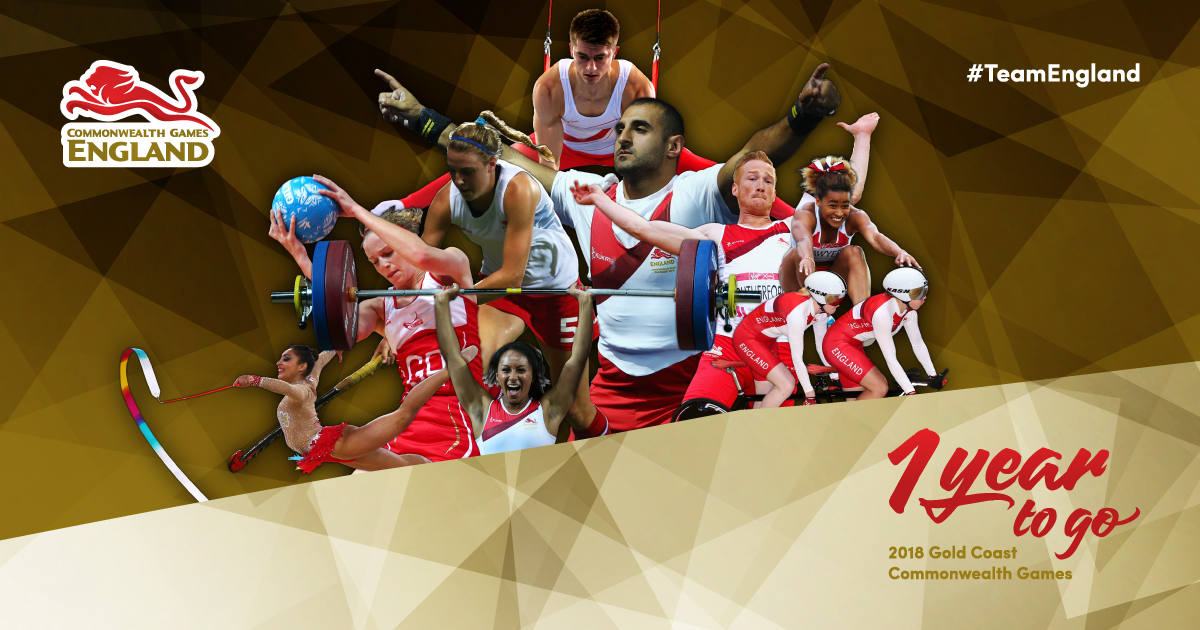 April 4, 2017
I
Press Releases, UK
I
Table Tennis stars become first English athletes to qualify for Team England exactly one year from start of Games With one year to go until the 2018 Commonwealth Games, Commonwealth Games England (CGE) has announced that Paul Drinkhall and Liam Pitchford are the first athletes to qualify to represent Team England at the 2018 Games.
Paul Drinkhall, 27, is the reigning Commonwealth mixed doubles table-tennis champion with four Commonwealth medals in total and Liam Pitchford, 23, has a total of five Commonwealth medals to his name.
Team England will and send a team of around 600 athletes and staff in what will be England's largest ever team to represent the nation in an overseas sporting event. The team will compete in 18 sports, including 38 para medal events.
Sarah Winckless, Chef de Mission for Commonwealth Games England said:

"With only one year to go until Gold Coast 2018, preparations are well advanced and we are confident of sending the best prepared English team to the Gold Coast. We have an excellent team of staff working hard to ensure that when we get out there, Team England will have everything in place for the perfect performance environment.


"Having Paul and Liam as our first athletes to qualify for Gold Coast 2018 is great news. They have both been to the Commonwealth Games before, experienced it, know what is required and will be able to lead from the front, supporting younger athletes at the Games."

Commonwealth table tennis champion Paul Drinkhall said:

"I am delighted to qualify to represent Team England at Gold Coast 2018. The Commonwealth Games is one of the world's best sporting events and Team England is the country's most successful team. I know that Commonwealth Games England is working tirelessly to ensure we have the best prepared team and facilities available to give us the very best chance of delivering more success for the nation at the 2018 Commonwealth Games.

Commonwealth table tennis champion Liam Pitchford said:

"It is a very proud moment to qualify for Team England. The 2018 Commonwealth Games will be outstanding and I am looking forward to going to the Gold Coast with the aim of returning as Commonwealth champion. Glasgow 2014 was fantastic for Team England athletes and it was vital in terms of my development. The Games has helped me progress to where I am today and I am excited for what next year can bring."
As part of its plans to send the best prepared team to the Gold Coast, CGE will hold a Team England 10-day preparation camp in Brisbane, create a dedicated performance centre inside the Commonwealth Games Village, and offer a full programme of support services. Team England's preparation camp for the Gold Coast will include a number of specially selected high-performance sports and support facilities that will enable athletes to continue training and complete their final preparations prior to entering the Commonwealth Games Village.
The dedicated performance centre will be at the heart of Team England's headquarters inside the Commonwealth Games Village. It will provide an enhanced environment in the Village for athletes, coaches and support staff, where the team will have access to dedicated doctors, physios and a full range of clinical, rehabilitation, preparation services, kit, equipment, stretching and R&R areas.
For further details please contact: Nick Rewcastle, Run Communications,
nick.rewcastle@runcommunications.co.uk
/ 07872 058 221 Vicki Harris, Commonwealth Games England,
v.harris@weareengland.org
/ 07984 536 234
Notes to Editors About Commonwealth Games England Commonwealth Games England (CGE) leads and manages the participation of Team England at the Commonwealth Games and Commonwealth Youth Games. We are affiliated to the Commonwealth Games Federation and work closely with the various sports' National Governing Bodies (NGBs), our funding partner Sport England, commercial sponsors and Organising Committees. Our purpose is to help prepare and support athletes and their sports to achieve success at Games-time.
Team England is the nation's most inclusive and diverse team, featuring athletes and para athletes from all over the country and an equal gender split across the team. After topping the medal table in 2014 with 174 medals, including 59 gold, Team England is also one of the nation's most successful teams.
Follow us
weareengland.org
Team England Twitter – @teamengland Team England Facebook – OfficialTeamEngland Team England Instagram – @officialteamengland